Civil War Uniforms Displays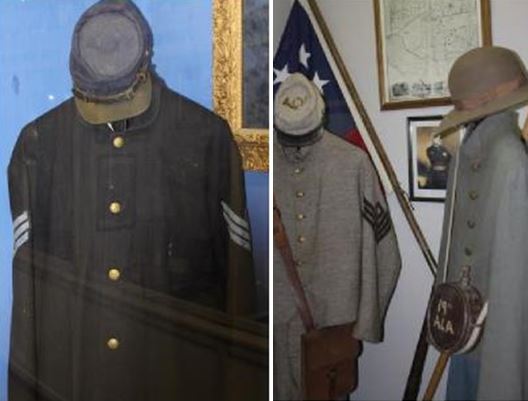 The Union Soldiers
"Yankee" soldier was mostly dressed in a blue knee-length single-breasted frock coat. The collars and cuffs of the coats were edged with cording denoting the arm of service: red trim for artillery, sky-blue trim for infantry and yellow trim for cavalry. Union soldiers were also issued a gray wool shirt and leather brogan shoes. The Union soldier trousers were sky-blue wool and the hat was a Model 1858 Dress Hat which was a black felt Hardee hat. The brim was pinned with a metallic eagle on the left side for Infantry and on the right side cavalry and artillery. The hat was trimmed with a wool cord denoting the arm of service: red for artillery, sky-blue for infantry and yellow for cavalry. Non-regulation kepi hats were usually worn instead of the Hardee hat because soldiers considered the Hardee hat too hot and uncomfortable. Union officers were identified by epaulets and shoulder straps and wore either double-breasted frock coats or single-breasted frock coats, depending on their individual rank. Union uniforms had brass buttons that were often stamped with an eagle with spread wings. In the early years of the war, the buttons were marked with I, C, or A, which stood for Infantry, Cavalry or Artillery.
Confederate Soldiers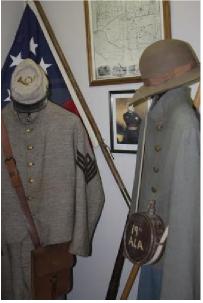 At the start of the war, most Confederate soldiers didn't have official uniforms. The South didn't have factories to mass-produce uniforms so Confederates often wore locally made uniforms instead. Many of these early Confederate uniforms were a yellow-brown "butternut" color. Some Confederate units also wore dark blue, which often led to confusion on the battlefield with the Union troops. In 1862, Confederate president Jefferson Davis established cadet gray as the official color for the Confederate uniforms. The uniform consisted of a double-breasted gray frock coat, a pair of light "French blue" trousers, white cotton shirts, a forage cap and leather brogan shoes. The frock coat featured facings of various colors on the cuff and collar, depending on the branch of service: Yellow for cavalry, Red for artillery, Blue for infantry. Confederate soldiers were also issued a single-breasted gray wool shell jacket with facings of the various branches of service colors on the cuff and collar. The Confederate army identified their officers with collar badges, a series of gold stars for colonels and majors and gold bars for lieutenants, and sleeve badges like chevrons for NCO'S and various other types of insignia, on their frock coats instead of plain facings. Since the light blue trousers were often difficult to acquire and they caused confusion on the battlefield because of the Union army's "sky-blue" trousers, they were eventually replaced with gray trousers.