Indian Wars 1865 - 1891 Uniforms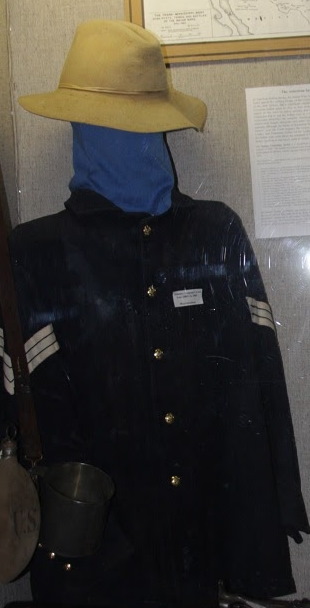 Indian Wars 1865 - 1891
Most soldiers were dressed in blue woolen uniforms, with brass buttons. Because of the vast areas to be covered, most troops were mounted. Later in the movement west, woolen shirts were replaced by "blue" dyed cotton shirts and wooden or bone buttons. As the westward expansion continued, the uniform was replaced by the khaki uniform in the late 1890s.
M-1876 OFFICER'S BLOUSE- Dark Blue wool-using in either standard 21 ounce Field Service wool, or the 16 ounce deluxe wool. All coats had black polished cotton lining, with natural cotton sleeve linings and one inside pocket. Both blouses have a 5-button front and 2 button cuffs.
M-1874 ENLISTED FATIGUE BLOUSE was made using Dark Blue 19 ounce field service wool. Coats came with branch of service enlisted uniform colored piping around the edge of the collar and the pointed cuff. Five medium sized US Eagle buttons are on the front and 2 small buttons on each sleeve. The front of the 1874 blouse was rounded at the bottom. The standard version is unlined, but two different optional lining materials were also used, Gray wool flannel or natural cotton.