Spanish-American War Uniforms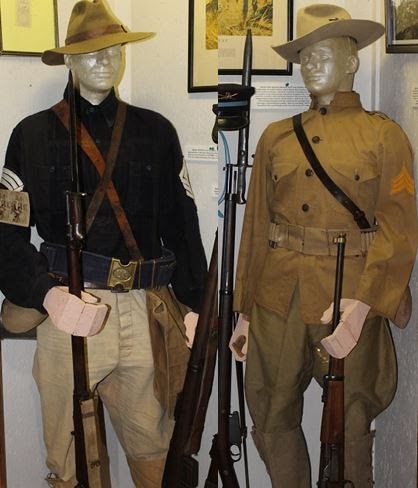 The Spanish-American War featured major changes. Uniforms at this point were replaced by khaki field uniforms that were inspired by the British pattern. The material of the uniforms at this time shifted from wool to cotton, and special campaign hats were issued. Between 1898 and 1899, there were at least four patterns of khaki field service coats. When the United States went to war with Spain in 1898, American troops faced an army skilled in anti-insurgent warfare and well equipped for combat in the tropics. Spain's troubled overseas possessions had rebelled several times in the 19th century.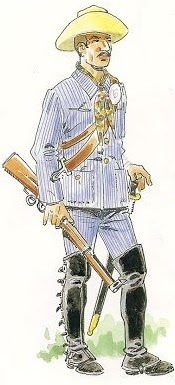 The Ten Years War in Cuba that lasted from 1868 to 1878, as well as rebellions in the Philippines and Puerto Rico, had taught the Spanish Army many costly but valuable lessons about warfare on the Equator. Wool uniforms intended for the European climate were completely unfit for service in the colonies, so the uniforms worn by most Spanish soldiers stationed in Cuba, Puerto Rico, and the Philippines were made of a special blue and white pinstriped cloth known as "Rayadillo." This was a lightweight but very strong cotton drill fabric, similar in purpose to the rip-stop poplin used by the US Army in Vietnam. United States Army during the Spanish American War uniforms were dress, frock (frockcoats) and sack (sack coats), military blouses, chevrons, shoulder bars / boards, shoulder scales, service stripes, buttons, great coats (greatcoats), capes, shirts (including, pull-over, bib-front and fireman's), cravats, pants (trousers), vests, suspenders, underwear, socks, hats (including: kepis, forage caps, helmets and slouch hats), boots and shoes. These are the uniforms worn by the U.S. Army (Artillery, Cavalry, and Infantry), Marines and Navy.